PRESS RELEASE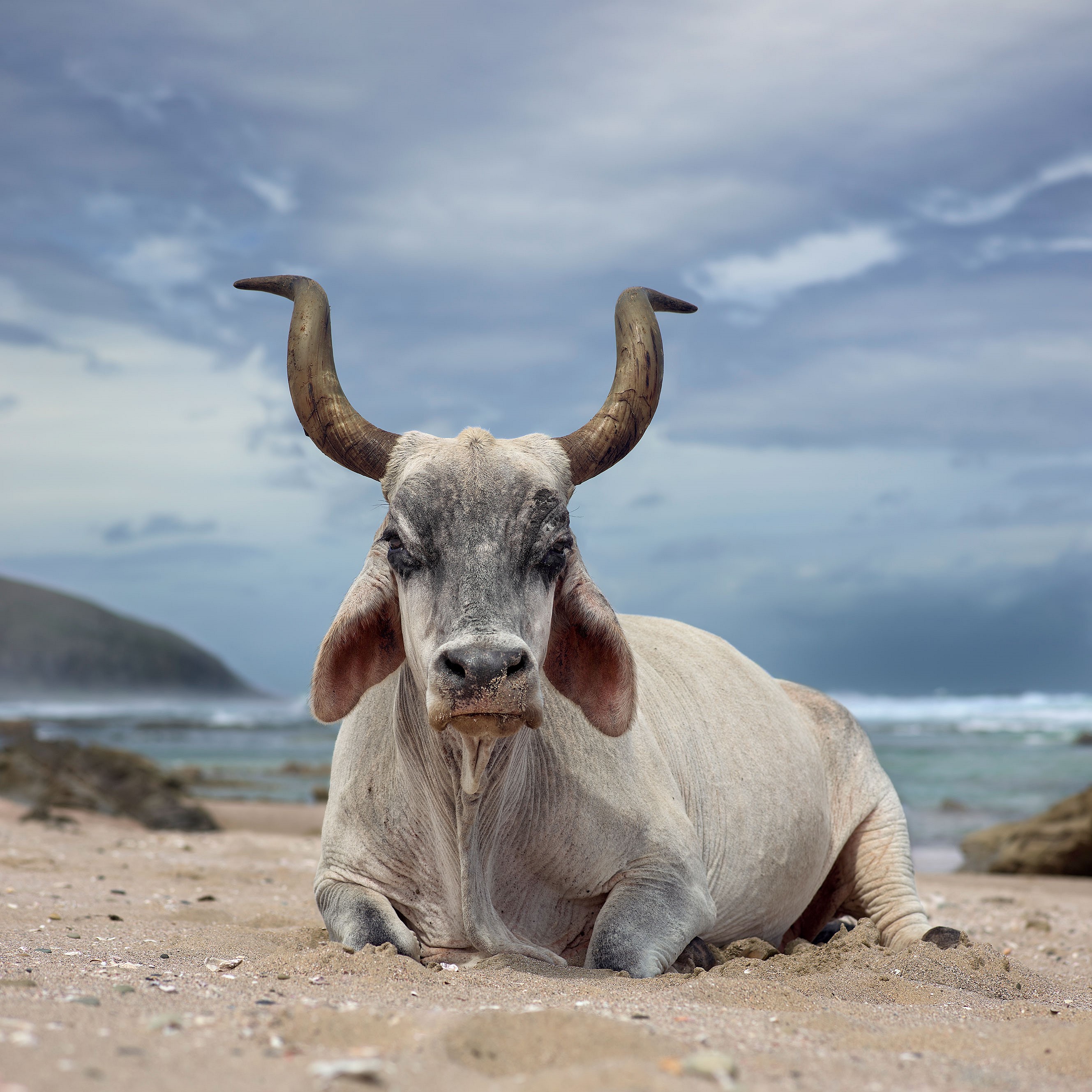 DANIEL NAUDÉ | THE BOVINE PROPHECY: XHOSA CATTLE ON THE SHORE
Nov 7 – Nov 23, 2020
PLEASE JOIN US FOR THE EXHIBITION OPENING OF
DANIEL NAUDÉ
The Bovine Prophecy:
Xhosa Cattle on the Shore
Saturday 7th November 2020 | 11h00 - 14h00
As if meeting us from the sea, patiently awaiting our arrival, we encounter them. Mythical. Majestic. These beasts seem to occupy a space and time that is beyond our conception.
The creatures we encounter in this series by Daniel Naudé are forceful reminders of our complex relationship with the animal world. Over a period of ten years, Naudé travelled to the beaches of the Wild Coast to photograph the indigenous cattle that live on these shores.
This was a process that called for patience, with Naudé scouting the area, waiting for a particular animal to be in just the right place at the right time. The release of the camera's shutter would signal that moment when Naudé would, after careful consideration, transform animal into image. As with his previous work, a delicate stillness permeates this photographic encounter. The weather and the effect of light on the landscape, as well as the temperament and composure of the animal, would all be taken into account. Only if he finds these variables to be in perfect balance would Naudé take a photograph. As he explains:
"It is important to approach the landscape and the animal with an open mind. In many ways, it comes down to the process of exploration. I have learned to be receptive and slowly immerse myself in my working environment. I always try to find the balance between mindfulness and abandonment that comes from being in nature. To me, it is a moment of stillness, a place where I am able to rest with the landscape and the animal."
Appearing on the beach with the ocean in a hazy background, we meet the animals usually staring directly at us. Over time, Naudé's perspective on an animal has shifted from a side-profile view (which we saw in Animal Farm) to a frontal viewpoint. This was deliberately done, he explains, in order to "create the effect of looking at something that is reminiscent of the outline of the human figure. I wanted to evoke that feeling that one is meeting, face-to-face, some extraordinary creature, part human and part animal, that has just emerged from the sea". In this way, Naudé ensures that his own telling of the story of the cattle does not relinquish that sense of mystery that pervades their existence.
Dr Ernst van der Wal, PhD (Visual Arts)
Senior Lecturer: Visual Arts
Stellenbosch University
CLICK HERE TO REQUEST A CATALOGUE
EXHIBITION CONCLUDES 23rd NOVEMBER 2020